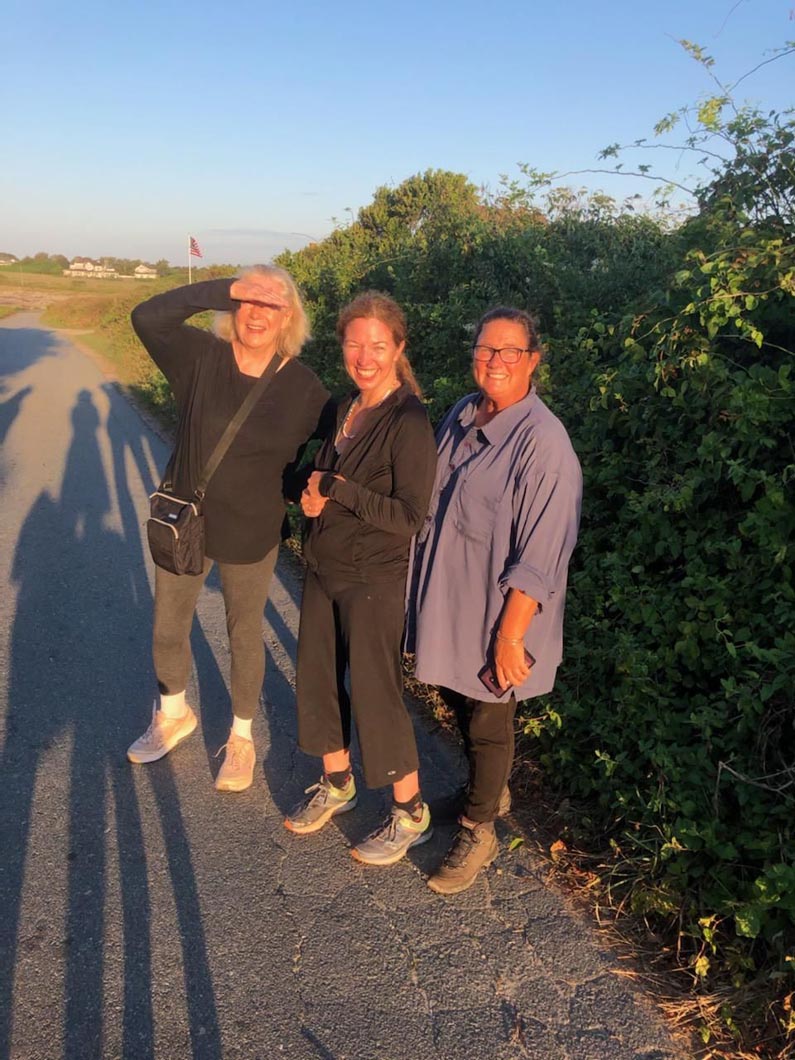 Johanne, Me, and Ellie kissed by the sun rise!
We have had more spiders this summer than I can remember.
Then last week, the early morning fog was thick and heavy.
This created the most amazing opportunity to see what is most certainly always there but out of view.
Spider webs!!!
My girlfriends Ellie and Johanne and I try to walk most mornings.
We leave at dawn, and on that day, this is what we saw.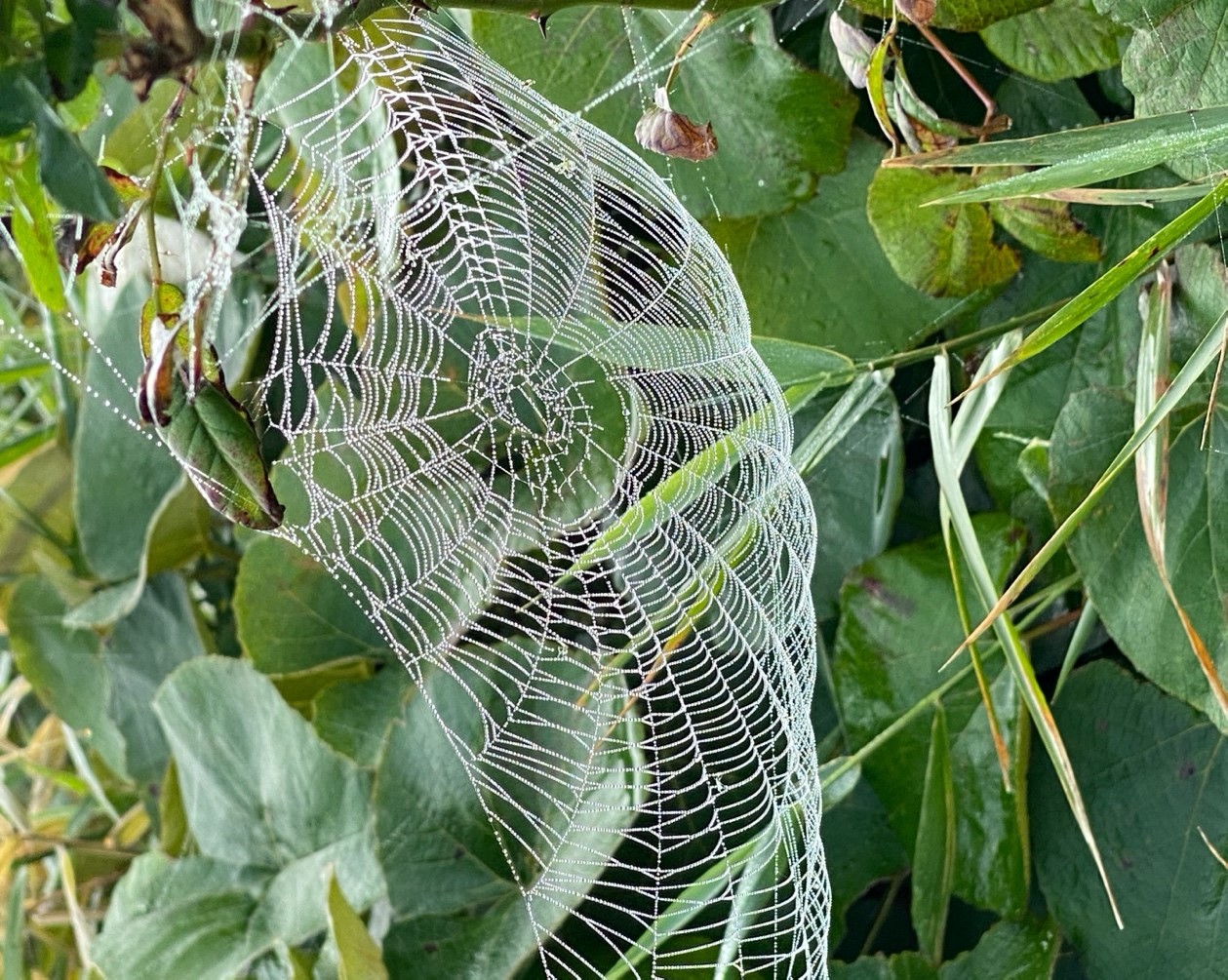 Johanne took this amazing photo!
There were thousands and thousands of them glazed by the fog and illuminated by the sunrise.
It was AMAZING!
It got me thinking: What else are we missing that is in plain view, yet we cannot see because the elements aren't just right?
We could see these spiderwebs because the fog had rolled in, and then the sun came up and what is invisible every other day on this day was overwhelming and inspiring.
One thing that is most obvious to an Alexander Technique Teacher that is not really as obvious to others is that you can learn how to move better.
When you move better, pain and stiffness can go away, and you can experience incredible feelings of freedom and lightness when you move.
The elements that need to be present for this to take place are a willingness to learn something new and a commitment to apply what you have learned.
That's it—willingness and commitment.
Those spiders exhibited the willingness and commitment to build their webs and created something beautiful along the way.
In the next couple of weeks, I am creating a group online class so that I can teach you how to move better using The Alexander Technique.
You will learn:
How to move more freely with less pain and stiffness.

Ways to reduce stress and feel more relaxed in your body.

How to walk more easily so that you can take those long walks in the fall and not be thinking about where the next bench is to rest.

Breathing techniques that will not only reduce stress but improve your breathing capacity. With improved breathing your voice will be more resonant and vocal projection will improve.

How to improve your posture and not by telling yourself to "Sit up straight" but instead we will really deep dive as to why good posture is important and easy ways to improve posture. You will also learn about all the things related to good posture such as chairs, wedges, lumbar cushions.

You will learn how to apply the Alexander Technique to all kinds of activities from unloading the dishwasher to playing golf, tennis, or a musical instrument.
You might be wondering if this might work for you online. Honestly, before I started teaching online, I wondered the same thing. But during COVID, I started offering online group classes to serve my community and they've been amazing!"
Read some of what my students report:
I had the privilege of being a student in Mary's first on line class.
I enjoyed being part of a group and looked forward to the hints and healthy ideas and exercises.
One of the exercises I continue to practice is the AT Lie Down.
I consider this practice to have played an essential part of my recovery from osteoporosis spinal compressions.
Mary was always available and thoughtful.
I am recovering very nicely and have signed up to take the second course she is offering.
Wendy M.
Mary is an excellent instructor and through her online course, introduced me to The Alexander Techniques.
I had no idea that how I moved was stressing my body and causing pain. I was unaware of this cycle.
By participating in this class, you will learn how to move better. You will then strive to make the Alexander Techniques a part of your everyday life. Mindfulness then followed by peace will fill your day!
Sister Pat
Mary's online course Agility at Any Age surpassed all of my expectations.
I am a very active senior and spend a great amount of time walking.
Before I took Mary's course, I often found myself feeling unbalanced in walking as well as sitting and standing. During the course we learned the techniques for gaining total balance and the ability to move gracefully as well as sitting and standing with ease.
Since completing the program, I have a new way of moving that automatically takes over allowing me to
walk with the ease of a " ballerina".
The entire process is quite magical, very easy to adapt and a joy to practice. "
Sam G
Click here to learn more and sign up!
Freedom to move with ease and less pain is there for you hidden in plain sight- and I can teach you how to claim it!
Click here to learn more and/or to sign up!
Of course, email with any questions you may have.
Mary